Rodriguez Bicycles are Made in the U.S.A.

In a time when other manufacturers are sending their production overseas, we at Rodriguez Bicycles are manufacturing here in Seattle, and sending our products overseas.
In our industry, almost every name brand has given up making affordable bikes here in the United States. Not to mention that just a few companies even dare to make parts here. Even companies like Cannondale and Trek have sent their production to Taiwan and China. It seems that they all think that we just can't make stuff efficiently here in the U.S.
Here at Rodriguez Bicycles, we see things a lot differently. Tell us we can't do something, and we'll find a way to do it! While it may be true that American bicycle manufacturing had become inefficient and expensive, there's no reason to assume that it cannot be fixed right?
Rodriguez Bicycles, Seattle U.S.A.
New manufacturing techniques have made us more productive and efficient than our competition, and keep us on our toes creatively. It's been fun rising to the challenge here in Seattle, and we invite you to visit us here in person, or on our website to see how we're doing it. We make no secret of our manufacturing methods, and if you look them over, I think you'll see that eliminating waste and inefficiency in manufacturing is the key to our country's future in manufacturing.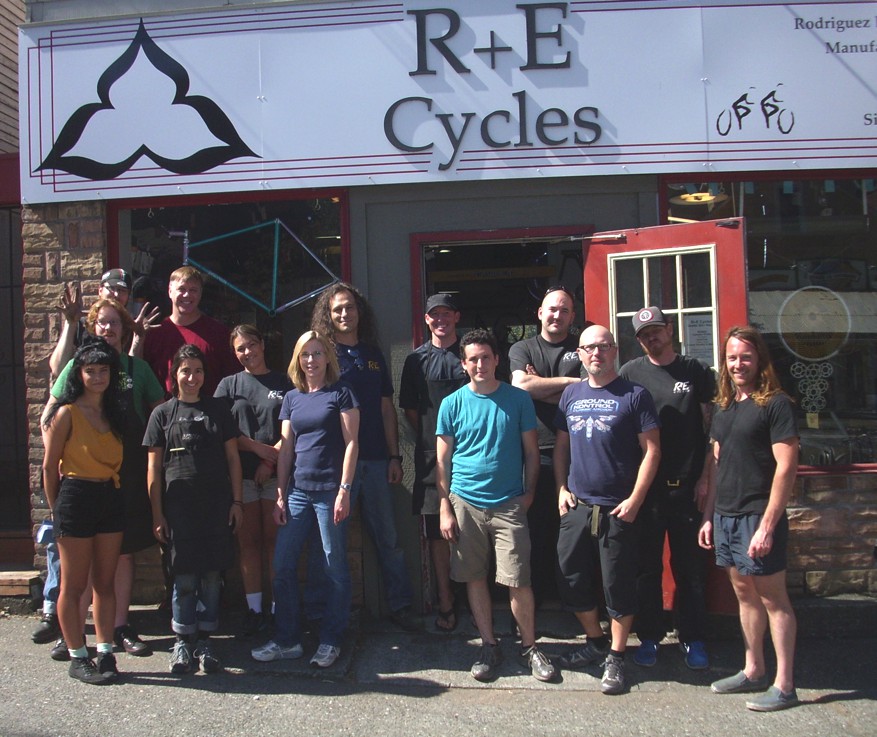 We are a group of 14 people (13 pictured), rare birds, that love, build, paint, assemble, sell and repair bicycles and bicycle parts in a small shop in Seattle, Washington. All of the Rodriguez bicycles and parts you see on our site have been hand-made right in our shop by the staff in the picture to the left. We have almost 40 years in this location. That's right! We've been out here doing this since 1973, and have really thought through our methods of manufacturing. Why should you pay more for inefficient building methods?
Hand-building bicycles in the United States for less than $2,000 is something that no other manufacturer has been able to achieve. In fact, we're manufacturing our patented Bushnell Eccentric bottom bracket here in Seattle, and selling them in quantities to companies in Taiwan. In the bike industry, that's unheard of!
I could probably write a book about how much evolution we've gone through to get to this point, but we have a movie that shows a 10 minute summary of our building process that you can view here. This shop actually captured the attention of the Puget Sound Business Journal a few years back, too.
We hope that you consider us to build your new bicycle. We love what we do, and we love our customers, too. Let us prove to you that United States manufacturing is still the best choice for your custom bike, no matter what your price range is.