The 8-Ball is a Rodriguez exclusive. It's a travel bike and a travel tandem all in one bike. The entire thing will break down easily to fit into two 26" by 26" by 10" flight cases.

The Story - When S&S couplings first came out, I immediately thought about a 'convertible' bike. One that would not only pack into a small flight case, but serve as both a traveler's single bike and a traveling couple's tandem bike. It made sense to me. I drew one up before we even had any couplings in stock. But, my head frame builder at the time didn't think it made sense, so we scrapped the project.

A few months later, our service manager drew up a design for a tandem that he could fit into a back pack. Our frame builder brought the design up to me (it looked very similar to the convertible that I had drawn), we combined the 2 designs, and with a few modifications, the Eight ball was born.

It wasn't long after that when Willie Weir and his wife Kat came to us about getting a tandem for their tour in Cuba. Willie is a world class bicycle traveler, columnist and KUOW commentator. He bicycles in places around the world that are obscure and amazing. After hearing about their plan, we decided that the Eight ball would be the perfect bike for them.
Willie was to go to Cuba first, and tour by himself for an extended period of time. Then Kat would fly in and join him. Our thought was that Willie could just take the 'single' configuration with him, and Kat could bring the pieces for the tandem conversion with her. This way, they wouldn't have an extra bike to try and store somewhere in Cuba. The plan went perfectly.
In the years since, we've built several of these bikes. Everyone who has one loves it. We've even had one customer add a 3rd section to their Eight ball, and now it's a travel single, a travel tandem, and a travel triplet! The versatility is amazing.
There's no better test for a bicycle design than having someone like Willie and Kat tour where there are no roads, bike shops, or spare parts. The Rodriguez Eight ball has proven its self to be a travelers best friend time and time again. I encourage anyone who thinks they would like to travel with a bicycle to consider this versatile design.
---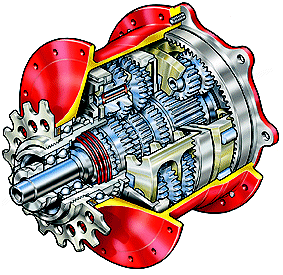 Rohloff Speedhub
This year, we've added a Rohloff drive option for the 8-ball. We've developed a clean way of incorporating this unique design into a versatile tandem/touring bike.
---
There are 4 stock colors to choose from, and custom paint is quoted per job.

Custom Rodriguez 8-Ball frame/fork $4,799
(add $300 for Rohloff version frame) for the tandem/single/travel configuration.