- Fit = Comfort = Better Performance -
---
The evolution of bicycle fitting at Rodriguez Bicycle company (R+E Cycles)
As a bicycle manufacturer, as well as a bicycle shop, we approach bicycle fitting different than most other shops. We've dedicated huge resources over the years to improve our methods of adjusting bicycles for our customers. 2006 was certainly one of those 'huge resource' kind of years. I thought I would take a minute (or several) and just go over the history of how we have developed our system...The NEXT-fit™ system.
Read on to hear about the history of how it came to be, or, if you'd like to see a graphical overview of the numbers the system generates click here.
Fit = Comfort = Better Performance
Being comfortable on a bicycle means that you don't have to get off every 20 miles to rest your hands, neck, shoulders etc... If your knees don't hurt, you can ride faster. In other words, if you are comfortable on your bike you will be able to ride long distances in shorter amounts of time while having more fun.
A 40 year history of fitting bicycles.
Over the last 40 years we've performed a lot of bicycle fittings. In fact, looking over our computer database of clients I see that we've done over 15,000 fits (since 1983). In the 1970's, we started out as a custom bike manufacturer. Accurate measurements are obviously something that was crucial for us at R+E Cycles.
1980's
In the 1980's, we were one of the first bicycle manufacturers to use a computer program to help us determine the measurements to build our custom Rodriguez frames. The software we used was originally developed for coaches who were training serious athletes. The opinion in the industry was that only a serious athlete would need to have this type of accuracy. We would take a customer's measurements, enter them into a computer program, and then build a custom Rodriguez frame to those numbers. It was a big improvement over guess work.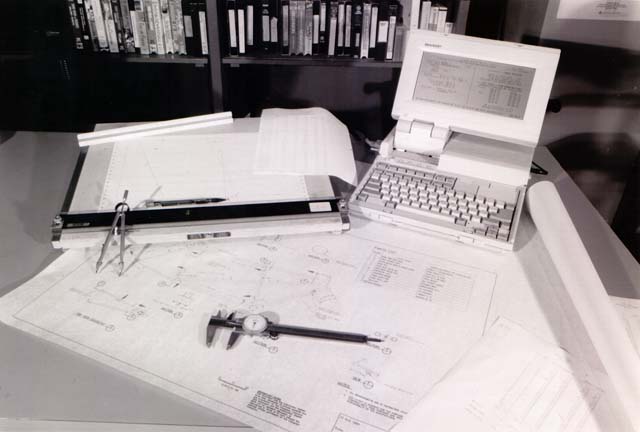 The computer fitting system was only used by a salesperson when selling a custom bike in the 1980's. When a mass produced bike was sold (we sold many different brands back then), the proper size was determined the old fashioned way. "What's the 'old fashioned' way?" you ask? Well, that depends on how old the salesperson was I guess (in the 1980's we had 15-20 salespeople at a time). I've seen many 'old fashioned' ways, although I've never used any of them. Some of them include standing over the top tube and lifting the bike up, checking to see if the view of the front hub was obscured by the stem, or the most amusing one, putting one's elbow on the nose of the saddle and checking to see if the middle finger reaches the stem.
Although not a perfect system, the customers who bought Rodriguez custom bikes with the 'computer recommended' numbers were more comfortable than most of the people who were fit the 'old fashioned' way.
We did professional fittings for people who already had a bicycle that they were uncomfortable on. I would measure both the customer and the bicycle. The computer would give me the suggested numbers. Then I would set them up on a stationary trainer and make adjustments until they were comfortable. Sometimes the smallest thing (like one brake lever mounted a few millimeters lower than the other) was the only thing between a care free century ride, and wrenching neck pain at 10 miles. I performed countless numbers of these 'full fitting services' and learned how critical comfort is for any cyclist, not just the pros. Fit = Comfort = Better Performance
The problem with the computer was that it assumed that every rider was a 25 year old professional athlete in top condition. It had no way of considering a rider's conditioning, flexibility, present or past injuries, age, etc... I always found myself making adjustments to the 'computer' recommendation. The computer generated numbers were really just a good 'starting point'. The cycling experience of the salesperson, his/her ability to listen to the rider, as well as their understanding of the mechanics of a bicycle were all the key factors in helping someone get comfortable on their bike. For instance, if a rider said "uhhhmmm....something is going numb when I ride" with kind of a blushing red face, I knew what that meant.
1990's
Times...they were a changin'. By the early 1990's we made it our policy for every salesperson on our staff (usually 6 to 10 at a time) to be trained to perform the 'basic four' (as I referred to them) body measurements for a customer buying ANY bicycle. These were inseam, torso, arm, and foot. This way we could get a recommended seat height, and a recommended reach to the bars. The 'old fashioned' methods became a thing of the past at R+E Cycles, and a standardized method of fitting bicycles began.
Rodriguez custom bike determinations and 'full fit services' were still reserved for just a few of us to do, but now a customer buying any bike could at least be assured of more proper fit than ever before. Fit = Comfort = Better Performance
Ignorance is bliss.
Well, we asked for it I guess. After the initial gripes and groans, the sales staff learned the system and started using it. A better educated staff who focused on making the rider more comfortable through a proper fit is a great thing...right? In most ways the answer is yes, but there were a few 'learning curve' draw backs.
It didn't take long for us to discover that most mass produced bicycles didn't fit most people.....at least without some modification. Soon, the repair shop 'to do' file was stuffed full of work orders. These weren't really repairs though, they were all brand new bikes! By 1995, I don't think we sold a bike without switching the handlebar stem, handlebars, crank arms, seat, or something on the bike that had to do with comfort. We had to work out a system between the sales department and the repair department to get these bikes done quickly. The customers were much happier on their comfortable bikes, and that's what's important.
On the Rodriguez custom bike front, things were a changin' too. As I said before, we had determined that the computer recommendations were only good to use as a 'basic starting point'. When someone was going to invest in a custom bike, we had a 'basic starting point', but what about age, flexibility, injuries, riding style, etc. Guess work was still involved in these areas.
We realized that more development was needed to ensure even more comfortable custom bicycles. So, we built a completely adjustable stationary bicycle and incorporated it into our process for building custom bicycles. Now a talented bicycle fitting expert could put his/her skills to work before we built the frame. Wow! Throughout the late 1990's, we made some great discoveries. With this new tool, we could really dial in on what our customers wanted, and it usually differed greatly from the fit that a professional bike racer in his 20's would prefer.
We also saw a need for much more accuracy than we were getting for inseam and torso measurements. In a training session, I would see numbers ranging a few centimeters for the same inseam. So, we came up with a more accurate measuring system (the fit stick) for inseam and torso lengths.
By the late 1990's, we were producing one model of Rodriguez bicycle (the Stellar) in 4 sizes specifically made for women's geometry. We had thousands of women's comfort preferences on file from over several years. We took a step into the limited production market. It was a great success! Fit = Comfort = Better Performance
Can you hear that feedback?
Now, when I said limited production, I meant that we rarely even had a Rodriguez Stellar built up for the women to try out. When we sold one of these production bicycles, we would use the adjustable fitting bike just like they were buying a custom. This technique not only ensured accurate information for that particular customer, it also gave us immediate feedback for the development of future production bicycles. Most manufacturers don't sell directly to the end user, so immediate feedback isn't so 'immediate'.
2000
By the year 2000 we only had about 4-6 sales people at a time. After crawling out of our Y2K bunkers, we began incorporating not only the 'basic four', but all seven crucial measurements as well as a session on the adjustable fit bike for just about every high end bike we sold. Because of the immediate feedback that we received, this method led to many more models of Rodriguez production bikes. When we would set someone up on the adjustable bike we would usually find that they weren't comfortable on any mass produced bike....this went for men and women. It became increasingly difficult to sell brands of bicycles that we knew weren't made for most people. On the other hand, it became easier and easier to design and manufacture a line of bicycles that most people DID find comfortable. Fit = Comfort = Better Performance. We had immediate feedback! We were in the unique position of seeing the problem, and being able to do something about it. We tooled up for more models and more sizes, and dropped more and more mass produced brands of bicycles.
By the year 2000, we were making 7 models of production Rodriguez bicycles in about 10 sizes per style.
2006 - two giant leaps into the future!
Now we have 3 professional fitters on staff. The one with the least experience has 16 years in the bicycle industry. Our 10 years of experience with the adjustable bike has taught us that even the computer's 'basic starting point' numbers needed some work.
This year Scott and I sat down and looked over custom bike drawings and numbers that we've collected over the years and made a few more giant leaps.
Leap number one:
In 2006 we are manufacturing our Rodriguez bicycles in 18 production sizes in addition to our custom bicycles. That's more production sizes than any other manufacturer. Every size has been developed using our experience of designing and manufacturing bicycles for over 3 decades. Fit = Comfort = Better Performance
What's NEXT?
Click here to see an illustration of a complete fitting session.
What's next is leap number 2:
Leap number 2 has been a long time coming.
Most of the software we use at R+E Cycles we wrote ourselves. The computer fitting program was one exception. Over the years, we had to develop 'adjustments' to the numbers it recommended (most of our customers aren't 25 year old pros). These 'adjustments' were the results of experience through performing thousands of sessions on the adjustable fit bike.
Other flaws existed in the old software as well. A lot of our female customers would be 'out of range' for the computer data, and we would have to extrapolate to get a 'recommended starting fit number'. It was clear that this aspect of the bicycle industry needed some love. Scott suggested that it was time for an update that reflected our customer's preferences. We had the data we needed, we had the ability to write our own software, and we carved out the time to make it so. Immediate feedback! We again were in the unique position of seeing the problem and having the ability, background, and dedication to address it head on. Fit = Comfort = Better Performance
The resulting effort is the NEXT-fit™ software that we are now using at R+E Cycles.
NEXT-fit™ is software that has evolved out of this 30 year history. Scott and I wrote it this January, and just finished version 1.0 this evening (Feb-9-2006). We have been running the beta version in the shop now for 2 weeks, and we are thrilled! We've been seeing much less discrepancy between our computer recommendations and our adjustable fit bike numbers.
NEXT-fit™ is a complete bicycle fitting experience that takes place before you purchase any bicycle at R+E Cycles:
All your measurements are taken and entered into the NEXT-fit™ computer.
The NEXT-fit™ computer will tell us if there is a size that's a 'perfect fit' in one of our 18 sizes. If so, then we can put a bike that size right on a stationary trainer. Then, with consideration to riding style and present or past injuries begin to make adjustments until you're comfortable.
If there is no perfect fit, or if you have injuries that make us thing that something different that the computer recommendation may not be the best, we'll go to the adjustable fit bike. Smiley, myself, or Scott will set it up to the computer recommendations and work from there by adjusting as you ride.
You will be able to ride the adjustable fit bike as long as you need in order to assure that you will be comfortable on your new bike.
We will make any needed adjustments as you ride to ensure a better ride.
NEXT-fit™ will analyze your body measurements to make a size recommendation, but then go even a step further. NEXT-fit™ will also analyze the data entered from the numbers from the adjustable fit bike.
NEXT-fit™ will recommend a bicycle size from our 18 Rodriguez sizes based on all of these factors. A NEXT-fit™ 'perfect size' recommendation is just what it says. When it says 'perfect size' it means that size will need no modifications. If there is no 'perfect fit', the NEXT-fit™ system will let us know the options that may work. We can always build custom sized bike for just a little bit more than the production sizes.
NEXT-fit™ gives us a much more accurate 'recommended starting point'. That's great news for all of our out of state customers. But whether a sale is conducted in person, or by phone or email, the most important factor isn't the software. The most important factor is always the experience and cycling knowledge of your fitting specialist, and the shop you're dealing with. You want someone who knows from experience what it means if you say "uhhmmm....I kind of uhhh....go numb when I ride long distances."
If you're uncomfortable on your existing bicycle, considering a new bicycle purchase, or you know someone who is, we would like to invite you in to try out the most advanced method for fitting a bicycle that has ever been developed.
Fit = Comfort = Better Performance
Click here to see what sample fit numbers will look like.