- The 2011 Ultimate Touring Bike -
Hard-Boiled


Originally designed and named for Adventure Cyclist, columnist Willie Weir, the Rodriguez W2 Adventure (or U.T.B.) has become a standard in the industry for the 'go everywhere' traveler. Known for its rugged construction and versatility, it quickly earned the nickname UTB or (Ultimate Touring Bike). The Rodriguez UTB Adventure is ready to conquer any terrain your heart desires. It is rugged, well-designed and with the Travel Option ($700) can pack easily into a 26" X 26" suitcase for airline travel.

This bike used to come standard equipped with out travel option . Over the years, lots of our customers have requested a UTB without couplings. They wanted the ruggedness, and the ability to install really fat tires, or mountain bike tires for off-road, but didn't need the travel option that the UTB came standard with. So, for 2010, we are offering the UTB in both a travel version, and a non-travel version just like all of our other bikes. For the person who really wants a commuting/touring bike that isn't afraid of any terrain, the UTB is the best choice. With the choice of the travel option, the UTB is the most convenient full sized model to pack into the 26" x 26" suitcase available today. This is partly because of its 26" wheels. For these reasons, the UTB is still our number one choice of the 'go everywhere' bicycle traveller.
---
How is the UTB different than the Rodriguez Adventure?

The UTB uses 26" wheels instead of 700c, and the frame is built wider to enable the owner to install mountain bike tires if needed. That's the only difference.

26" wheels provide two big advantages for the go-anywhere cyclist:
Rugged or really wide tires: Some people like the ability to install real mountain bike tires or really wide tires on their commuting/touring bike. 26" wheels make this possible.
Super Portability!: If you travel with your touring bike and choose our travel option, the 26" wheels make packing the bike WAY easier. If you'd like to see how much easier, read this.
---
This bike is rugged, well thought out, designed by someone whose life is bicycle touring, and hand-built right here in Seattle by a company with over 38 years in the business. If you want to ride without being limited to smooth, paved roads, this is your bike. If you want to go continent hopping, and bring your bike along for fun, this is your bike. If you want to have the experience of a lifetime on a bicycle, this is your bike.
---
Have a drink on us!
The Rodriguez bottle opener is an exclusive, touch of class that you'll only find on a Rodriguez. This stainless steel accessory comes standard on the Rodriguez W2 touring bike. It is brazed onto the seat stay.
---
Our bikes are unique as our customers... they love our bikes, and we love them!
Don't live nearby? You can still order a Rodriguez. Check our our FAQ page.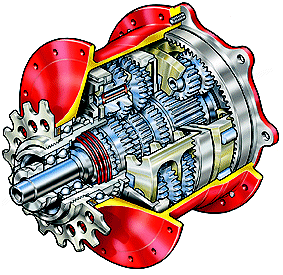 Rohloff version of this model now available.
The Specs
PDF Spec sheet

UTB Basic

UTB Plus

UTB Ultegra

Price

$2,099


or $2,799 Travel Version

$2,699
or $3,399 Travel Version

$3,499
or $4,199 Travel Version

Frame
Crom-Mo Butted
Reynold 725
True Temper OX Platinum
Fork
Tandem Grade Steel
Aluminum
Aluminum
Shift levers
Shimano 8x bar-end
Shimano Dura-Ace 9 speed Bar-end
Shimano Ultegra Carbon 10x
Brake levers
Tektro
Tektro
Shimano Ultegra Carbon
Brakes
Tektro Cantilever
Trillium Big Squeeze™
Trillium Big Squeeze™
Bottom Bracket
Shimano Sealed
Shimano Sealed
Shimano Sealed
Cranks
Sugino Triple 28/38/48
Sugino Triple 28/38/48
Sugino Triple 28/38/48
Cassette
SRAM 11-32 8x
SRAM 11-32 9x
SRAM 11-32 10x
Front Derailleur
Shimano 2200
Shimano Tiagra Triple
Shimano Ultegra Triple
Rear Derailleur
Shimano Deore
Shimano Deore
Shimano Deore LX
Chain
SRAM 8x
SRAM 9x
SRAM 10x
Hubs
Formula
Formula
Formula Sealed Bearing
Rims
Weinmann ZAC19
Weinmann ZAC19
Weinmann ZAC19
Spokes
DT Swiss 14G
DT Swiss 14G
DT Swiss 14G
Wheels
Hand-built w/3-year warranty
Hand-built w/3-year warranty
Hand-built w/3-year warranty
Tires
Serfas Kevlar Belted
Serfas Kevlar Belted
Serfas Kevlar Belted
Handlebars
Kalloy Uno Drop Bars
Kalloy Uno Drop Bars
Kalloy Uno Drop Bars
Head Set
FSA
FSA Cartridge Sealed
FSA Cartridge Sealed
Seat Post
Alloy
Alloy
Alloy
Handlebar Tape
Black Cork
Black Cork
Black Cork
Saddle
WTB or Selle
WTB or Selle
WTB or Selle

Frame Upgrade Options:

Custom Paint - $100 ~ $400
Travel Version - $699 ~ $850
OX Plantinum tubing - $125

Component Upgrade Options:

Carbon Handlebar - $250
Tiagra STI Shifters - $100
Carbon Seat Post - $50
Full Fenders Installed - $65
Brooks B-17 Saddle - $150
Phil Wood Bottom Bracket - $150
Phil Wood Hubs - $500
Custom Sizing - $200
18 sizes plus custom
4 stock colors and 5 decal options plus custom
---
R+E Cycles Home | Contact us